Giving and receiving
Dear reader,

I hope you are well. The sun is out here after weeks and it feels good. I have been thinking of growing my receiving muscle for a long time. I love to give because it is something that I am conditioned to do. Be a good person, overextend, be of use, otherwise who even are you?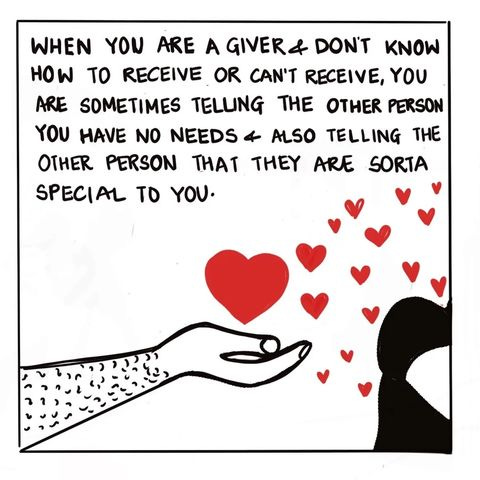 But I have never been told how to ask for help.

Last year, when I started to learn dance, I realized I didn't have any salwar kurtas and I didn't want to buy any because it is not something I like wearing and I didn't know if I would continue my dance class. So I thought of asking but I didn't know how to ask. Also, I realized it was so easy to give away jewellery and clothes I don't use or have grown out of, on Instagram. When folks offer to pay for post, I often say no. But asking has always been difficult.

Is it okay to expose a need? What if no one responds? What would people say or send? What will they think of me? Am I supposed to reciprocate? If I don't reciprocate will I be considered selfish? Will people expect something from m, something I may not want to do or give?

I didn't ask Instagram but wrote about it on Twitter. A person who wasn't following me sent me this:
Thanks for reading Love and longing! Subscribe for free to receive new posts and support my work.
Hi, just saw your tweet abt kameezes/kurtas. I would like to share the ones i don't wear anymore. Am from Mumbai. If you fine, I could sort a few out tomorrow and send you pics for you to choose! Do lemme know
I responded. I didn't know if I say yes, I would still have choice. I didn't know if I could reject. But I did. They showed me 10-11 clothes. I picked 4. They ironed and couriered it to me. One was from a fancy store that I would never buy from because it is expensive. It fit like a dream.

No, it didn't make receiving easy for me. I recently read how there is so much written about the giver archetype, we often hear of people who give selflessly but absolutely nothing about receiving. The book asked —
Do you ever hear that someone is a great receiver?
To grow the receiving bone, the book asked me to stop complaining and start noticing how much life gives me. I thought I'd give it a try.

Next morning, the day after Eid, I saw there was a tiffin box on the dining table. I wondered what I had forgotten to put in the fridge and went to investigate. It was hot and had seviyan in it. The person who works in our house had come to check on me in the morning with a box full of hot seviyan.



My first reaction: What time did she make this? And like my mother always says, "iski kya zaroorat thi?" I walked into the kitchen to ask her. She said she made it at 5 am and I was still annoyed that she had woken up so early to make me seviyan. Then what I read came back to me. I thought of the many times I have made things for people when I have been super duper busy or making it meant upsetting my schedule. I have never wanted them to scold me for the extra work. I have always always wanted them to savour what I had painstakingly cooked. It was my love and this was her love.

I went back and thanked her and said we will eat when the two of us have lunch.

A few days before this happened, she had just come back from her village after her daughter's wedding. She had bought my mum and me sarees. Mum and I agreed on, "Accepting our sarees and not offering her money and not scolding her for buying us sarees." We may have many sarees, she may be poor but one has to trust she knows why she is doing what she is doing and knows how to manage her money. We all want to give in ways that are possible to us and don't want to just keep receiving and we certainly don't want to be shamed for giving. We are expressing so much when we give.

Anyway, in the week, I was mindful, every time someone was giving, from compliments to work opportunities, to offering help with projects to other things and not say the banal thank you and shout it down but to engage.

Someone on the internet sent me a link to a residency in Ireland. It was only for residents of that country but I made mental note of the fact that this was a person who care about my well being and thanked them.

I accepted star fruit from an Instagram friend who wanted to Swiggy some to me. Though I like starfruit, I can't eat more than half of a star fruit and didn't know what to do with it. Google.com showed me this pickle and it turned out real good. My father who rarely compliments anything (because compliments go to people's head) said it was fabulous.

Another person who wrote for cock-a-doodle wanted to send me something, I trusted because I loved their writing.

As I have started paying attention, I have realised life and people are constantly giving me. No, I am not always receiving because sometimes I feel scared to receive from strangers on the internet and give them my address. Sometimes it is overwhelming to open all the messages that I get and thank folks because my worthlessness still lingers, so ignoring is easier and plus it takes up a lot of my time and seems impossible.

But I see when I am not obsessing about what all I am not getting, I am not losing sight of all the good stuff coming way. And concentrating on that makes me feel like I belong in the world because there is so much love coming my way.

Thank you for reading this and for the love.

I will end with a link to my buymeacoffee.

Warmly,
Indu
Thanks for reading Love and longing! Subscribe for free to receive new posts and support my work.